Not that anyone needed any evidence as such, but we State fans can sometimes turn on own from time to time.
Let me allow you a moment to let that sink in, and then ask you to forgive me as I do the same.
Will White...you were flying high here on the blog just half an hour ago. Then I came upon this photo that turned up at
the ESPN story
: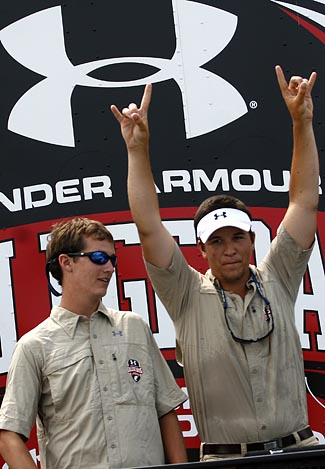 Will. Will, Will, Will.
I'm not sure if you're a closet Texas Longhorns fan. Perhaps you're the long, lost nephew of Mary Anne Fox. But we do NOT bust out with the Wolf sign in celebration whilst on the podium after winning a national title if
we don't know how to do them
:
Brother, talk to somebody. Figure it out. Get it right. But put 'em in the holsters until you do, because otherwise you're going to subject yourself to ridicule from your Wolfpack brethren. Deserved ridicule, because we're State fans and we'll turn on you in a heartbeat.