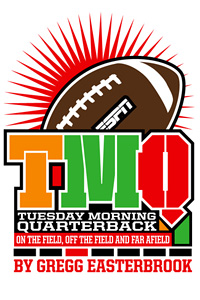 Courtesy of my boy Matt, ESPN.com Page 2's Tuesday Morning Quarterback takes a shot--somewhat fair, mostly not--at former Wolfpack defensive lineman and first-round draft pick John McCargo:

Draft Bust Update: Last week Indianapolis canceled a trade with Buffalo for underwhelming 2006 first-round defensive tackle John McCargo, who seems on his way for admission to the Bust Hall of Fame as a first-round selection who never started so much as one game. In the 2006 first round, three defensive linemen from North Carolina State were chosen: Mario Williams, first overall to Houston; Manny Lawson to San Francisco; and McCargo to Buffalo. As the third of the three was picked, Michael Irvin asked how so many guys could go in the first round from a team that was only 7-5, saying, "Look at their record, look at their record, how can they have three first-round picks?" Look at their record is the kind of thing a player says, and here the player's instincts were better than the instincts of scouts. Williams of course has become a star, Lawson has been hampered by injuries but had a big blocked kick against Jersey/A on Sunday, and at this point it looks like McCargo's best-case outcome is that some team gives him cab fare to the airport.
(Continues)


It seems a bit unfair to call McCargo a COMPLETE bust, worthy of the Bust Hall of Fame, as the author asserts. Johnny Mac has battled injuries throughout his pro career: he's struggled with a lingering foot injury throughout his time with Buffalo and after the initial trade terms that would've sent him to Indianapolis were agreed to, it was discovered that he had a bulging disk that resulted in a failed physical.


While [McCargo] showed no real concerns about passing the exam, the former first-round draft pick does have a history of foot problems. He broke his left foot in college, then again in his rookie season and doctors had to re-break it during his rehabilitation process in the spring of 2007.


Of course the author, Gregg Easterbrook, left that little tidbit of info out, making it seem as though Indy merely changed their mind. It clearly undermines his point that McCargo's a bust, as folks rightfully give passes to injured draftees who don't live up to their billing versus those who are simply lazy or not pro material.

Now, has McCargo been accused of not doing everything he can to see the playing field? Yes, and so he doesn't get a complete absolution of the "Bust" tag as a result. But injuries are a part of the game, and to label a man a bust because he's dealt with them over the course of his career is unfair. Don't blame the man for getting drafted on potential...if anyone, blame the Bills for drafting him in spite of the risk his history of foot injury foretold.