We're two weeks and two days away from the first game of the season and State's no closer today than they were two months ago to knowing who the starting quarterback will be.
The big cry from the internets these days is
anointing freshman Mike Glennon
the starter against South Carolina, bypassing incumbents Daniel Evans, Justin Burke and Harrison Beck and newcomer Russell Wilson.
Here's two reasons why these State fans think it will work, and why I think it is a bad idea.
1. The Unknown is better than The Known.
It's the classic scenario...the backup QB is always the most popular player on a football team. The reason being he hasn't done anything wrong to that point in his career. It's much easier to point to all the mistakes of the starting college QB and say he sucks while simultaneously touting all the accolades an incoming freshman received in
high school
as evidence that he's a better option. Comparing one's high school performance to another's at the college level isn't a fair comparison, by a long shot. Yes, Glennon was rated as one of the top two or three QBs in the nation as a high school senior. But how do you extrapolate that into what he'll do at the next level? You can't. But it hasn't stopped folks from making that argument.
2. Philip Rivers.
While he will likely remain the greatest QB in school history for decades to come, Philip's legacy for the near future is that no QB to don the Wolfpack red will ever be comparable. Some folks lose sight of this, however, in wanting to thrust Glennon into the first game of the year, citing how well Philip did as a true freshman. They say he has all the tools Philip had, can make all the throws and has all the mental aspects in place to succeed as a true freshman, just like Philip did. If it worked then, it can work now. They may be right.
Here's why I think they're wrong.
First off, there were three things about Rivers' situation in 2000 that made his immediate success possible: his size and strength as a freshman, his offensive coordinator (Norm Chow) and his early enrollment. Glennon has none of these three things working in his favor. While I don't mean to shortchange Dana Bible, he's no Chow (no one else is). Glennon's thin as a rail (6'6"-195), and he didn't join the team until the summer, missing out on all of the spring workouts and practices.
Glennon needs two things right now: time and size. Missing out on spring practice cannot be diminished, in my mind, because those hours spent in the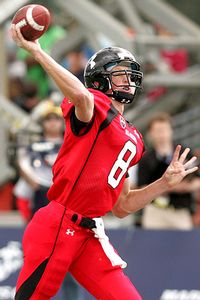 weight room and on the practice field are crucial team-building opportunities. The recurring theme coming out of Rivers' first spring in camp was how strong his leadership skills were at an early age. He worked harder than any of the returning players and incoming freshmen, and it helped build the kind of rapport a QB needs heading into fall camp and the first game of the year. Glennon hasn't had that time, and while I'm sure he's making the most of his time with the team now, he missed out on almost four months of time he could've spent in playbook memorization and team building.
His size is also a concern. While Glennon will never fill out into a 265-lb monster, he does need every pound of muscle he can add to his frame to ensure he'll survive the pounding he'd surely take in 2008. State's OL isn't exactly where it needs to be -- witness the moving of two defensive linemen over to the OL in the spring to fill in gaps -- and it would be risky, in my mind, to put a thin QB who hasn't physically matured back there with inadequate protection. Rivers stepped of the plane at RDU weighing a good 220. That's a full 25 pounds ahead of Glennon at this point, and Glennon is about an inch taller.
Couple the time in the weight room with a year of college-level film study and you'll set the groundwork for Glennon to maximize his output over four years of eligibility. If you need a good example of what holding a clipboard in your first year can do for a QB, look no further than Rivers, who sat his first two years in the NFL. It gave him plenty of time to learn the playbook, continue to workout and gain more strength and to build a rapport with his pro teammates. Glennon, in my mind, needs that time in moving from the high school to college level.
Some other factors:
State's picked to finish last in the Atlantic Division.
State faces one of the toughest schedules in the league this year. The Pack could be 100% better as a team than they were last year and still finish with the same record.
You run the risk of damaging Glennon's confidence if you start him too early in a situation where he fails often. A QB is measured between the ears, and if his confidence gets damaged early, it may take a lot of time to get it back, if ever.
Tom O'Brien is in no danger of losing his job if he struggles this season. Is it better to use a year of Glennon's eligibility now, in a year that won't amount to much more than a rebuilding season where Glennon will get pounded, or to have for a fifth year in 2012 with (hopefully) a much better OL and better surrounding talent?
Redshirt Glennon this season and let the quartet of other contenders duke it out for the honor to captain rebuilding season #2 of the TOB era. Evans has experience and a repaired shoulder that he claims is stronger than ever. If that's the case, I say give it to the senior and let the other three vie for the job. Because if Glennon is the truth, let's focus on the future with him at the helm and give him the best chance to succeed.
That means sitting him in 2008.
Edit to update Rivers' weight as a freshman...good catch.